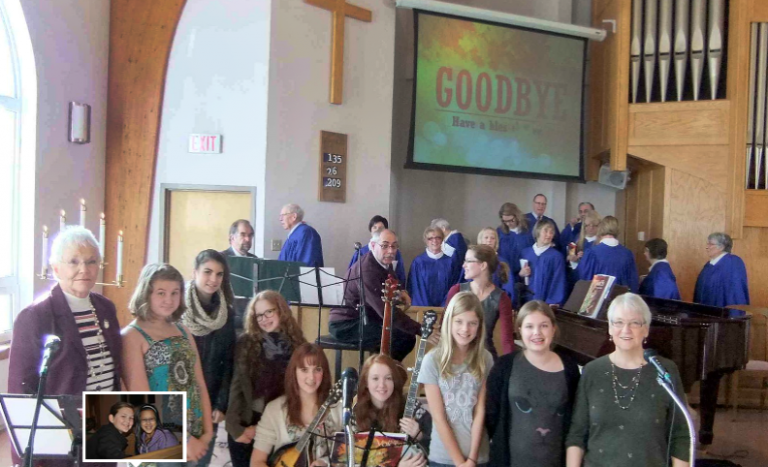 The music ministry and all it encompasses lies at the heart of worship and spirituality at Knox. Everyone participates by singing of hymns, both traditional and modern.
Our musical resources are diverse and inclusive, blending songs that make up our heritage with songs that will inspire future faith. We are blessed to have a number of wonderful instruments support the music ministry. Our grand piano accompanies hymns as well as the choir selections.
We also occasionally use guitar, keyboard and drums to liven our ministry of music.
Music at our Traditional Worship
Music during the 10:30 a.m. worship service is led by our music director and an adult choir, accompanied by the piano.  Hymns and choruses from our three Hymn Books (Voices United, More Voices and Spirit Anew) are used throughout the service. Words to the hymns are usually projected from a Power Point presentation. The choir offers a Ministry of music selection each week.
Adult Choir
We are blessed to have a large and talented adult choir who sing a variety of three and four part anthems including meditative, traditional, contemporary, gospel etc. If you can carry a tune, or especially if you can harmonize, we would love to have you join us. Sight-reading is not necessary, but a sense of humour is required.
Practices
are weekly on Wednesdays at 7:00 p.m. (Sept to May).
Funeral Choir
Many families find comfort in music at funerals and memorial services. The choir is often called upon to lead the singing of hymns at funerals. We would welcome anyone interested in being a part of this special ministry to contact us and become a member of our Funeral Choir.
---
11 November 2018  Joanna Butler